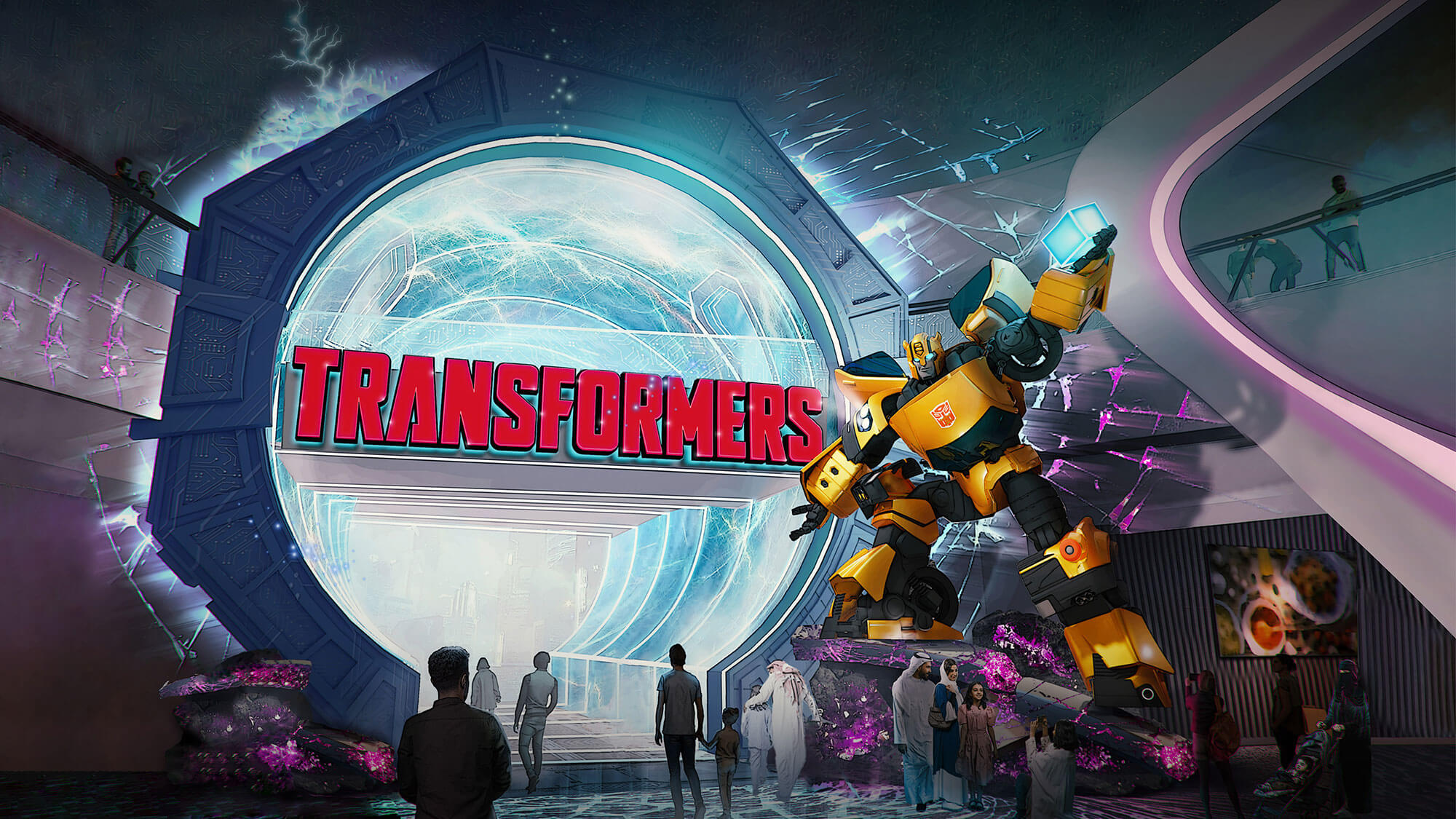 SEVEN will develop and operate three Transformers attractions in Saudi Arabia, with the first set to open in SEVEN's entertainment destination in Al Hamra, Riyadh.
The Transformers themed attractions will offer thrilling and highly immersive experiences for people of all ages.
Riyadh, Saudi Arabia; May 10, 2023: Saudi Entertainment Ventures (SEVEN), a wholly owned subsidiary of the Public Investment Fund (PIF), has signed a second licensed agreement with Hasbro, Inc. a global branded entertainment leader. Under the agreement, SEVEN will bring the Transformers brand to its entertainment destinations in the Kingdom of Saudi Arabia. The agreement follows an earlier announcement of a licensed agreement between to the two parties for the world's first PLAY-DOH attractions.
SEVEN have partnered with AOA, an industry leader in immersive experience design and production, to develop the Transformers attractions which will provide thrilling and highly immersive experiences for people of all ages.
Spanning over 10,000 square metres, the Transformers attraction will open at SEVEN's entertainment destination in the Al Hamra district of Riyadh, with two additional attractions set to open at other SEVEN's entertainment destinations. The Transformers ride-based attractions will feature thrilling state-of-the-art rides and captivating environments that will have guests fully immersed in the action-packed world of the iconic brand. To complete the overall visitor experience, there will be branded retail, including specially developed merchandise, and themed food and beverage venues, leaving guests feeling as though they have stepped into the Transformers universe.
Abdullah Al Dawood, Chairman, SEVEN, said: "We are delighted to once again be partnering with Hasbro to bring this iconic brand to the Kingdom. We continue to cement our position as the national champion of the Kingdom's entertainment sector, strengthening the entertainment ecosystem with our strategic partnerships to bring a wide range of attractions for the people of Saudi Arabia to enjoy."
Matt Proulx, VP, Location Based Entertainment at Hasbro, Inc. said: "By partnering with SEVEN in the Kingdom, we can bring even more truly unique experiences to fans of Transformers and PLAY-DOH. We're sure that these new immersive attractions will entertain and delight generations of fans and families for many years to come."
SEVEN is investing more than SAR 50 billion to build 21 entertainment destinations which will provide unique and innovative world-class entertainment experiences and global partnerships from within the sector. The upcoming projects are located in 14 cities across the Kingdom: Riyadh, Kharj, Makkah, Jeddah, Taif, Dammam, Khobar, Al Ahsa, Madinah, Yanbu, Abha, Jazan, Buraidah, and Tabuk. Saudi Entertainment Ventures, a wholly owned subsidiary of PIF, is mandated to invest in, develop, and operate entertainment destinations and create a sustainable entertainment sector that caters to the needs of all in Saudi Arabia, in accordance with the highest international standards.
For further information and for all enquiries click here.