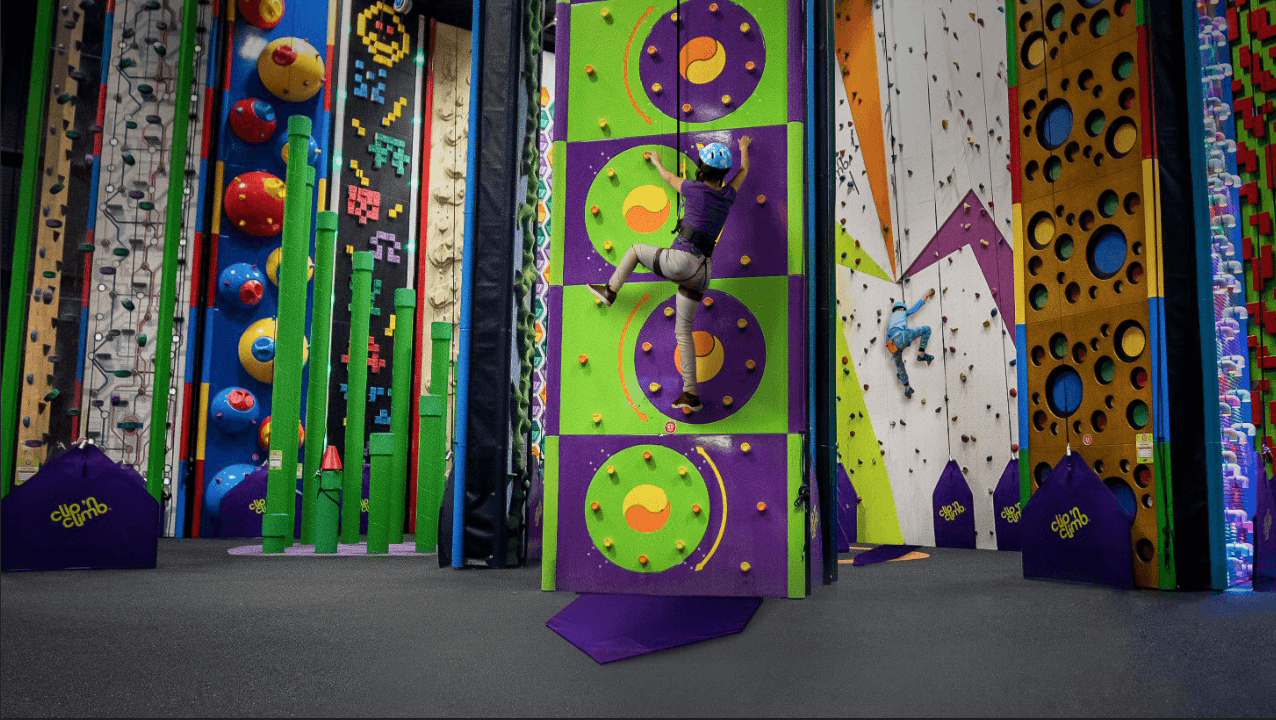 First Clip 'n Climb branded stand-alone venue in Saudi Arabia to open at SEVEN's upcoming entertainment destination in Al Hamra in Riyadh
SEVEN announces more than ten Clip 'n Climb attractions will be featured in its entertainment destinations across the Kingdom in the next three years
The strategic partnership with Clip 'n Climb will position Saudi Arabia as their flagship market in the Middle East
Riyadh, Saudi Arabia; December 14, 2022: Saudi Entertainment Ventures (SEVEN), a wholly owned subsidiary of the Public Investment Fund (PIF), has signed an exclusive partnership agreement with Clip 'n Climb, the creator and market leader in fun climbing, to build and operate Clip 'n Climb entertainment attractions in more than ten upcoming entertainment destinations by SEVEN across the Kingdom.
Clip 'n Climb is the original creator of the fun climbing concept worldwide. From its roots in New Zealand, it has expanded with more than 360 centres worldwide and offers fun and thrilling climbing experiences that are loved by millions. Clip 'n Climb centres offer more than 35 unique climbing challenges designed to stimulate several senses simultaneously. These challenges are suitable for people from the age of four upwards, regardless of climbing experience.
SEVEN has partnered with Theme 3, a leading creative design and production agency, to develop the Clip 'n Climb venues and elevate the climbing experience. The first branded stand-alone Clip 'n Climb venue in the Kingdom will open at SEVEN entertainment destination in Al Hamra in Riyadh. SEVEN recently broke ground for the project, which aims to serve the neighbourhoods in the north-east of Riyadh and boost the Kingdom's entertainment sector.
SEVEN Al Hamra is one of 21 entertainment destinations under development by SEVEN across Saudi Arabia to strengthen the Kingdom's entertainment infrastructure. Guests can visit the Clip 'n Climb centres at several of SEVEN's entertainment destinations across the Kingdom. More details about the locations will be announced in due course. Each centre will include the best Clip 'n Climb Challenges that suit the climbing capabilities of visitors and will have the overall 'look' and 'wow' factor that Clip 'n Climb is known for.
Abdullah AlDawood, Chairman of SEVEN, said: "At SEVEN, we are committed to establishing entertainment destinations that provide unique experiences that meet the aspirations of the Kingdom's residents, as well as strengthening the entertainment ecosystem. As the global pioneers of fun climbing, Clip 'n Climb serves as a perfect fit for our facilities as the concept is innovative, appeals to all ages and backgrounds, and provides a safe environment that promotes a form of healthy, active and playful entertainment. We will continue to build such exclusive partnerships that will transform the Kingdom's entertainment landscape."
Benoît Beylier, Managing Director of Clip 'n Climb, said: "This exciting new venture will facilitate Clip 'n Climb's expansion in Saudi Arabia, and provide our fun and thrilling challenges for visitors to SEVEN's entertainment destinations across the Kingdom. As the innovators of fun climbing, we are committed to bringing and delivering the highest standards of safety to all visitors in addition to creating innovative climbing experiences that will delight everyone. With our new partnership with SEVEN, Saudi Arabia will become a flagship country for Clip 'n Climb across the Middle East."
From climbing the Ladder to premium Challenges, Clip 'n Climb delivers unique and extraordinary experiences. The different shapes, vibrant colours and variety of textures make the Challenges appealing to anyone aged four years upwards, and will delight visitors at SEVEN Al Hamra. Among the popular challenges are (Amazing), ideal for first-time visitors and children, with handholds and footholds that can be gripped in a variety of ways; (Ascendor), a dual challenge with two difficulty levels; (Astroball), one of the sensational challenges designed for three climbers; (Champions) series designed to recreate the atmosphere of an elite competition, with the three climbing disciplines; (Caving Ladder), which has a steep vertical cave section; and (Cloud 9), a whimsical interpretation of a scattering of clouds, and more.
Spanning over 167,000 square metres of fun, SEVEN Al Hamra is a two-level facility with ten unique attractions which have been specially designed to cater for all age group needs. These exciting attractions include the Kingdom's first Clip 'n Climb facility, first Transformers themed ride-based attraction, first indoor Ferris wheel, Wave House – an indoor surfing facility, cinemas, bowling, e-karting, Discovery Adventures Center,a variety of retail outlets as well as an array of casual and fine dining outlets serving local and global cuisines.
SEVEN is investing more than SAR 50 billion to build 21 entertainment destinations which will provide unique and innovative world-class entertainment experiences and global partnerships from within the sector. The upcoming projects are located in 14 cities across the Kingdom: Riyadh, Kharj, Makkah, Jeddah, Taif, Dammam, Khobar, Al Ahsa, Madinah, Yanbu, Abha, Jazan, Buraidah, and Tabuk.
Saudi Entertainment Ventures, a wholly owned subsidiary of PIF, is mandated to invest in, develop, and operate entertainment destinations and create a sustainable entertainment sector that caters to the needs of all in Saudi Arabia, in accordance with the highest and latest international standards.
For further information and for all enquiries click here.