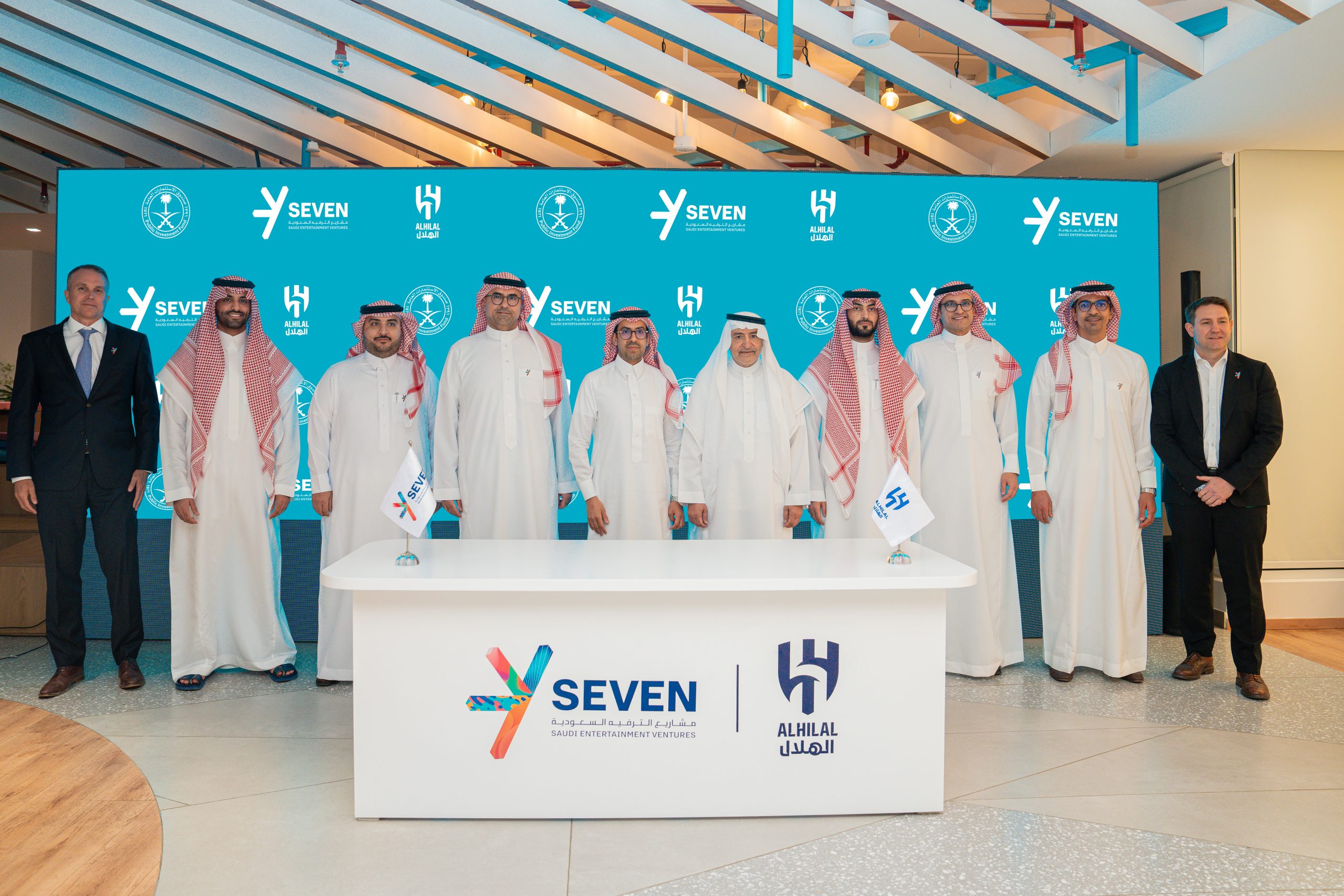 The two entities will benefit from mutual commercial and marketing rights that will support SEVEN's future guests and Al Hilal FC fans
Riyadh, June 12, 2023: Saudi Entertainment Ventures (SEVEN), a wholly owned subsidiary of the Public Investment Fund (PIF), has signed a three-year official partnership agreement with the leading football champion, Al Hilal Saudi Club. Starting from the 2023/2024 season, the partnership includes mutual commercial and marketing rights between the two entities that will support both SEVEN's future guests and Al Hilal FC fans.
The partnership aligns with SEVEN's aspirations to be an enabler of the next generation of Saudi sporting talent through its entertainment destinations. Aspiring sportspeople can learn and hone their skills by participating in numerous sporting activities at SEVEN's entertainment destinations, including skiing, climbing, surfing, bowling, golfing, indoor sky-diving and e-karting.
Abdullah Al Dawood, Chairman, SEVEN, said: "At SEVEN, we are redefining the entertainment landscape of the Kingdom with an unrivalled offering of entertainment which includes education, sports, adventure, events, and more. We are committed in supporting the goals of Saudi Vision 2030 to enhance the quality of life among all residents. Our entertainment attractions, which offer a wide range of experiences and activities, will enable guests, especially sports enthusiasts, to strengthen their skills.
He added, "This agreement with Al Hilal, one of Saudi Arabia's leading football clubs with a long legacy of championing talent, will support SEVEN's ambition to unlock sporting talent and reach a wider audience across the Kingdom."
Abdullah Aljarbou, CEO of Al Hilal Saudi Club, said he was pleased to have signed this partnership which illustrates how the sports and entertainment sectors are intertwined, in line with the goals of Saudi Vision 2023, and also enables both parties to fulfill their goals to enhance the quality of life for the people of Saudi Arabia.
Over the past six decades, Al Hilal Saudi Club has won 66 championships and created a legion of loyal fans across the Arab world, Asia and further afield. The club's greatest achievements include winning the Saudi Founder's Cup, qualifying three times for the FIFA Club World Cup, and winning a record eight Asian Football Confederation trophies. Most recently, the club earned a silver medal at the 2022 FIFA Club World Cup.
SEVEN is developing the Kingdom's entertainment ecosystem by investing over SAR 50 billion in 21 integrated entertainment destinations in 14 cities across Saudi Arabia. The company seeks to enrich the quality and lifestyle of millions of citizens and residents in the Kingdom by diversifying entertainment options and activities, creating job opportunities and developing local Saudi talent in the entertainment sector. SEVEN is also partnering with leading international entertainment brands to bring the best-in-class experiences to the people of Saudi Arabia.
For further information and for all enquiries click here.